Courses for Personal & Family Wellbeing at Your Fingertips.
I have always been interested in people, in their well-being and relationships, and driven by curiosity and caring to understand people and what helps individuals and families to do well in life, to grow, reach their potential and thrive. 
With over 20 years experience as a Helping Professional I know the importance of quality, accessible, usable information and resources to support wellbeing, parenting and family life. Over time I have had the opportunity to work in a variety of roles and organisations helping children, teenagers, parents, families, foster families, and other helping professionals. I have loved the chance to work in schools, counselling services, and mental health services.  And now I have the opportunity to share what I've learned with you - to help you develop knowledge, skills, insights, clarity and inspiration to enhance your individual and family wellbeing.
In my work, my passion for supporting others includes a focus on Counselling, Psychology Services, and Family Therapy for members of the community and also supporting, mentoring, supervising and teaching other Helping and Health Professionals. This means you will find a mixture of courses available in my school catering to the public and to other Helping and Health Professionals.
As someone who has a 10 year history teaching in University settings, who facilitates Family Therapy training around Australia, and who currently runs my own training company I know the value and importance of engaging, interactive, high quality learning experiences that are respectful, affirming and challenging in ways that promote personal growth.
I love supporting people to do well by sharing information, tips and inspiration for wellbeing and family life. I am excited to share courses with you through my Teachable School.
Leonie
To Subscribe to My Monthly Resource-Letter for tips, ideas, inspiration, and resources I create and find visit www.drleoniewhite.com
Follow me on Facebook https://www.facebook.com/drleoniewhite
Instagram https://www.instagram.com/drleoniewhite/
LinkedIn https://www.linkedin.com/in/dr-leonie-white-9a915489/
Building Family Values
Free Mini-Course
This course will help you develop and amplify family values
to create the family you'd like to be
by providing information, activities and practical tools you can use straight away.
You will access a 39 minute webinar and downloadable resources
including the Family Values Card Sorting Activity.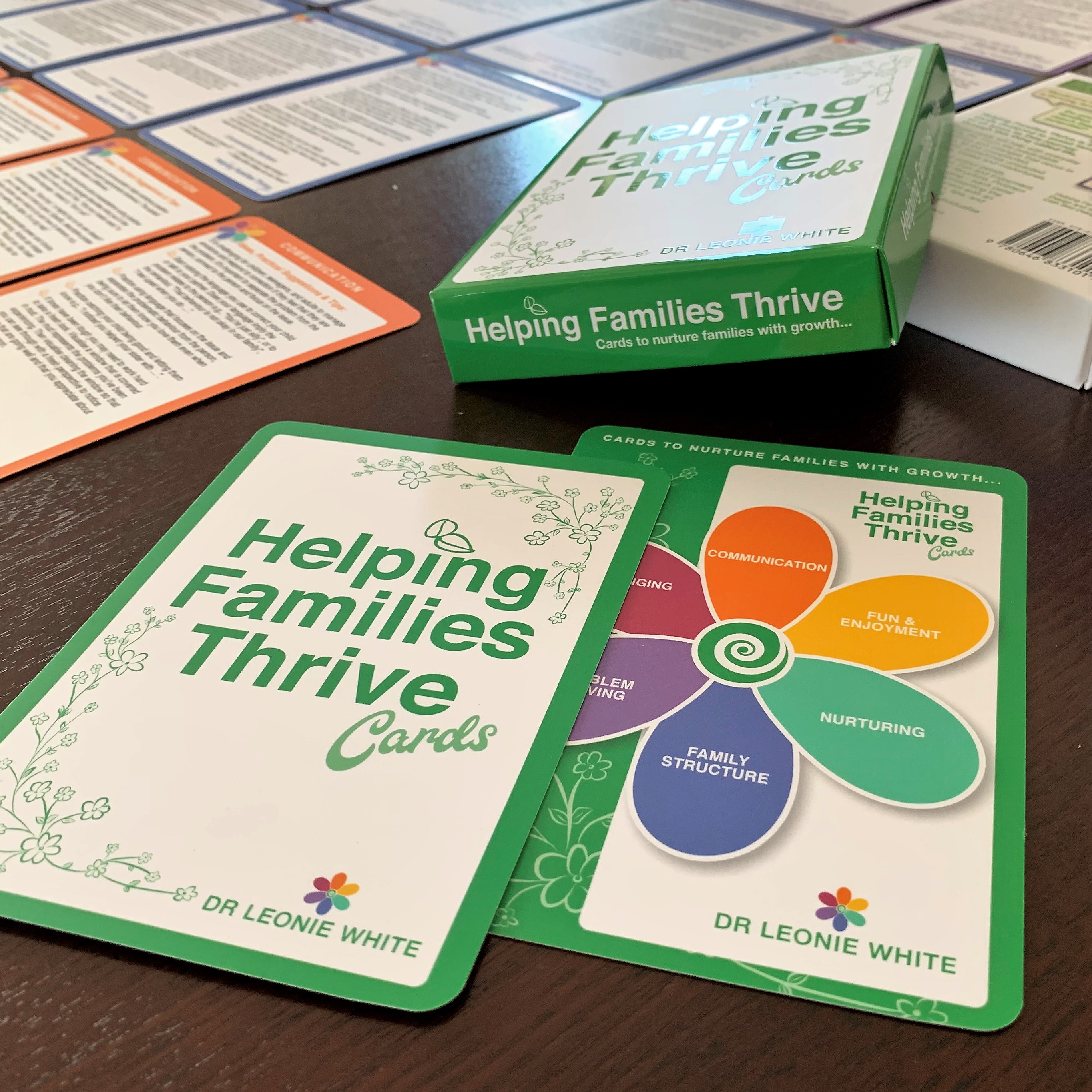 Helping Families Thrive Cards
I created these cards to help families to thrive.
There are 36 cards divided into 6 colour petals categories for ease of use - Communication, Fun and Enjoyment, Nurturing, Family Structure, Problem Solving and Belonging.  
These cards are designed to support each family with their own unique hopes, goals, dreams, composition, structure,
and ways of being.
After over 20 years as a helping professional I have come to see the absolute importance of family and also the challenges that come with family life. I designed these cards to make Family Therapy concepts easily accessible to every family so that you can grow your family's wellbeing and navigate family challenges.
Available at https://www.compassaustralia.com.au/product/helping-families-thrive-cards